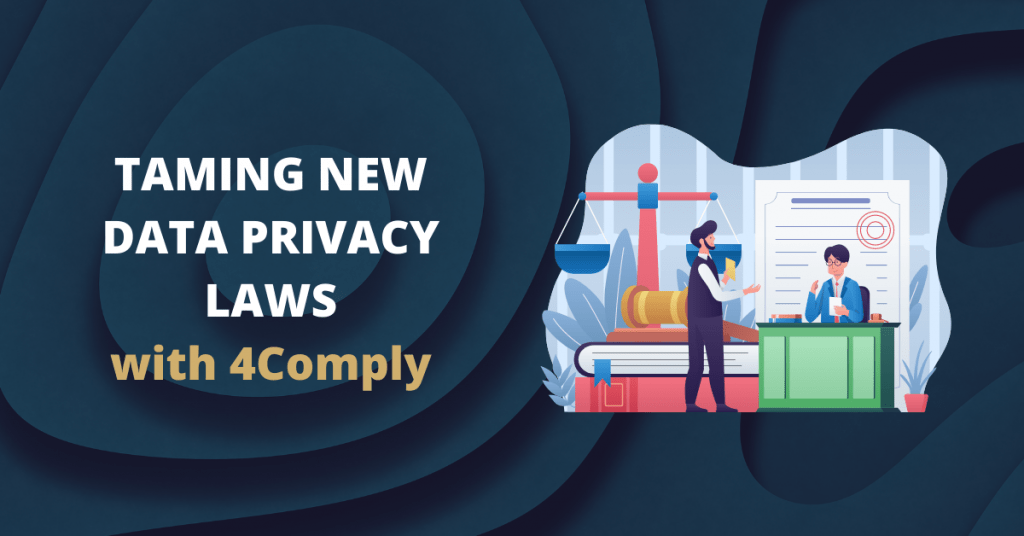 Data privacy laws are constantly changing. As governments listen to citizen requests for better protection, new laws pass to replace old ones or to set an initial privacy standard. Meanwhile, legal decisions set precedents for both interpreting and enforcing these laws. The standards for data privacy have never been higher—or more complicated.
Active Data Privacy Laws Around the World
The GDPR, while not the first privacy law, was the most comprehensive and strictly enforced law at the time and arguably still today. The EU's decision to pass the law then prompted governments around the world to evaluate their own approach to people's data privacy. Since the GDPR took effect in 2018, multiple countries around the world have proposed new privacy laws of their own or updated old ones. States are taking similar action in the absence of a US federal privacy law.
While it may sound cliché, the world never stops evolving. Neither does the internet. As we rely on technology more and more, our private information spreads farther than. Data privacy laws around the world are designed to give back as much of that control as possible. Since these laws must adapt to technological changes, their requirements can and absolutely will change with time.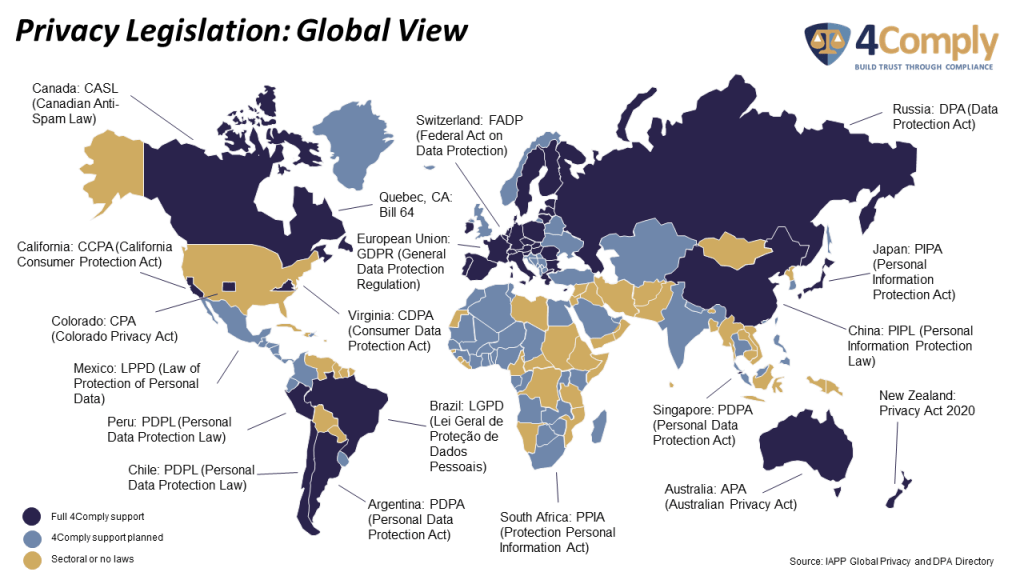 How 4Comply Can Help
At 4Thought Marketing, we know how hard it can be to stay on top of every emerging data privacy law. That's why we've developed a solution to keep the process as simple as possible.
4Comply, our marketing consent management software, allows you to set your own privacy standards with just a few simple steps. First, your legal team reviews and interprets relevant privacy laws. Next, your legal, marketing, and IT departments use these interpretations to develop your privacy policy. You can then configure 4Comply to enforce your new policy. Implementing new or changing privacy laws only requires updating your regulation configuration. The system then takes over to ensure you are correctly collecting, processing, and using customer data. 4Comply makes it easy to stay compliant.
How to Know if a Privacy Law Applies to You
4Comply supports any privacy law—all it needs is your legal team's interpretation to be input. But before you can get started with this, you need to know which privacy laws even apply to you. How can you tell?
The majority of privacy laws have a common thread: they apply to any business, organization, or even individual that collects and processes user data from the country in question for commercial or professional purposes. This holds true regardless of whether your company is physically located there or not. An US-based company sending marketing materials to contacts in France is subject to the GDPR. Likewise, a French company marketing to Canadian contacts is subject to CASL, as well as any local laws a province may have passed.
To know if a privacy law applies to you, review your records to see where your contacts live. You must comply with any and all regulations that protect their private data. Consequently, you must ensure that the values of these laws are loaded into your 4Comply setup to show you what you are allowed to do.
Prioritizing Users' Privacy Rights
Privacy laws and the consequences of breaking them provide compelling motivation to make privacy a high priority. But more importantly, customers prefer brands that respect and defend their personal information. It's important to remember the human element in data privacy laws.
When privacy law violations or fines make headlines, the news tends to focus on what the company did and the legal penalties they're now facing. Both are important to know about. But we should also remember that improperly used or shared data can lead to potentially severe real-world consequences for the people that data belongs to. Users deserve to have their privacy rights respected and their private information not invaded. Companies that understand this and act accordingly will earn consumer trust and gain even more opportunities to maximize marketing.
Staying on Top of Data Privacy Laws
Privacy laws ultimately exist to protect users from feeling violated, not just to avoid potential consequences. Respectful, transparent data handling policies that comply with the law can help your company gain more loyal customers.
But privacy laws are a moving target. Why not try 4Comply to keep your marketing efforts up to speed? Contact us today for a free demo.