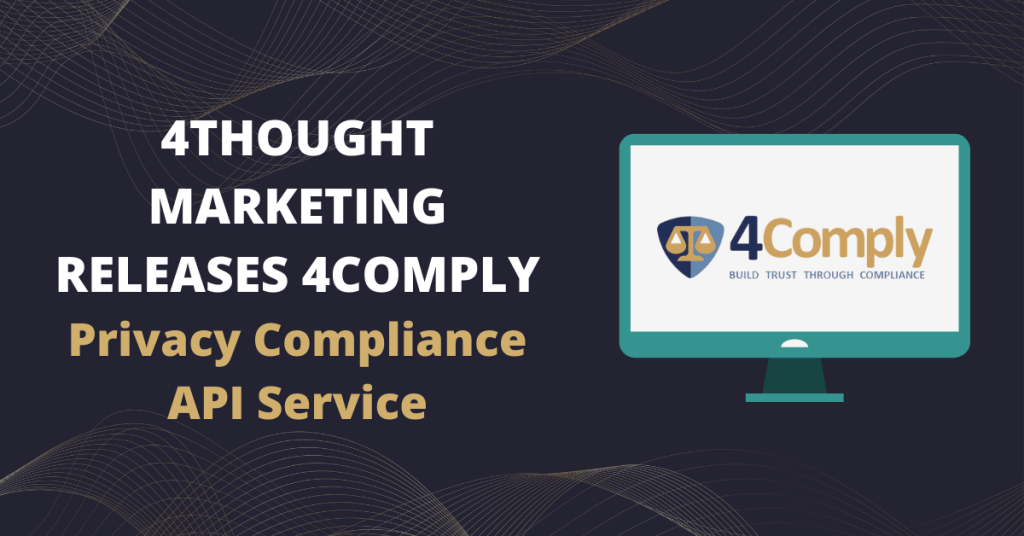 Satisfy privacy compliance requirements by adding functionality to any system using the 4Comply API.
Los Gatos California, June 19, 2020 — 4Thought Marketing–a software development and privacy compliance professional services company—today announced its new 4Comply privacy compliance API service. 4Comply is a privacy compliance solution with centralized consent and permission distribution, citizen rights fulfillment, and legal activity vault. This new developer-focused API augments the existing 4Comply product released in 2018. 4Thought Marketing invites developers to sign up for a developer account to begin working with the API.
Key 4Comply Features:
Setup and code solutions quickly using the REST API and Webhooks
Centrally collect and store consent, and distribute permissions
Fulfill rights requests like Right to Access, Right to Be Forgotten, etc.
Leverage our ready-to-go forms and emails, or use your own
Configure applicable regulations and policies
View privacy activity reports and alerts
While Enterprise Compliance SaaS solutions exist, 4Comply is the first solution focused on developers. When tasked to deliver a custom privacy solution, they don't need to build the entire system from scratch. The 4Comply framework takes care of the complexities of international privacy laws and helps developers build and deploy a quality privacy solution fast. Developers can learn more about 4Comply and sign up for a free developer account at https://4comply.io/developers.
Build Trust through Compliance
"People want more control over how their data is collected, stored, and used," said Mark LeVell, CEO of 4Thought Marketing. "If companies lead with privacy compliance early in the customer experience, making it clear how and why they collect information, then customers are more likely to grant trust and purchase."
Most organizations today invest substantially to improve the customer experience, increase personalization, and execute cross-channel orchestration. Each of these investments requires data to work correctly. In the face of new compliance regulations, the common perception is that less information gathering might occur. But for customers who DO give you information, it will be more precise and more actionable.
"The best email campaigns are about timing, delivering the right message at the right time. It's the same for compliance," said LeVell. Asking for permission at the appropriate time does not require a significant investment to improve the customer experience. It requires planning to identify where to add privacy compliance to your applications, and depending on their location, assuring you collect details that satisfy all legal requirements. 4Comply's flexible framework makes this easy. According to LeVell, "The best time to ask for consent is when the customer is engaging with your brand, and the easiest way to add compliance is using 4Comply."
Getting Started with 4Comply
4Comply early access is available for developers to dive in and begin developing with the 4Comply API. Create a free developer account, access our developer documentation, and start coding.
Business leaders, legal, and data privacy officers who want a demo or to learn more can contact us at 888-356-7824, via email at info@4thoughtmarketing.com, or contact us online.
About 4Thought Marketing
4Thought Marketing is a software development and privacy compliance services company founded in 2008. We help customers translate business objectives into strategies that produce results. Our services include Privacy Compliance Software and Consulting, Marketing Automation and Marketing Technology Strategy, Oracle Eloqua Cloud Apps and Add-ons, Integrations, Campaign Services, Staff Augmentation, Data Management, and Oracle Eloqua Implementations.