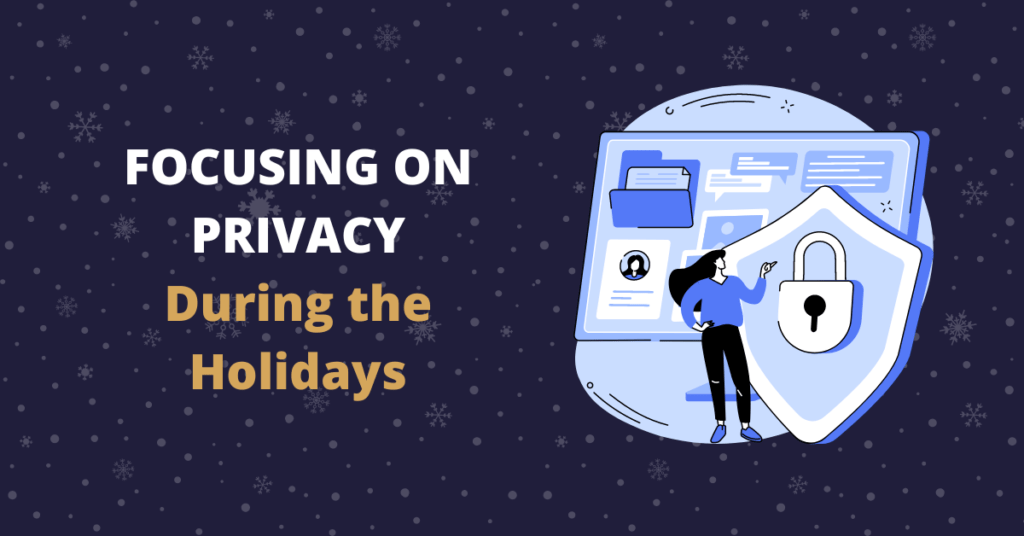 As the holiday season takes off, data privacy is usually the last thing on everyone's mind. Unfortunately, due to the anticipated increase in sales and marketing activities, private data could be at more risk if ignored.
And it's not just individual users at risk. A 2021 Cybereason survey of businesses previously targeted by hackers during holiday seasons indicated that most were worried about a repeat attack. Unfortunately, barely a quarter of those same businesses had a response or prevention plan ready to go. A second attack could expose not only customers' private data, but also sensitive company information.
Why is Consumer Privacy at Increased Risk During the Holiday Season?
Consumers' private data could be in danger from multiple different sources this holiday season, including:
Simply being so busy that any suspicious activity goes unnoticed
More company employees are on vacation, so fewer professionals are ready to respond to privacy requests or risks
Increased online shopping (especially post-2020) that can compromise payment information
Signing up for new sites/services for gifts and thus sharing data with more organizations
Generally poor security practices that leave data vulnerable
Buying (or receiving) gifts with a poor privacy track record
Privacy Risks to Businesses During the Holiday Season
Businesses face their own privacy challenges during this time of year. In addition to a few concerns similar to individual users' risks, such as increased online activity and potentially outdated security practices, companies have a unique problem: data subject access requests (hereafter DSARs).
Privacy-conscious customers with time on their hands want to know who has their data and how it's being used, and will file DSARs to find out. This presents a twofold issue. First: a company simply may not have the manpower to respond to all these requests in a timely manner, which can result in fines. Second: customers tend to sign up temporarily over the holidays, get what they want, and then delete their account afterward. This obviously takes away a potential future source of revenue. How should your business respond?
Countering Privacy Risks Proactively
Good news: you can begin preparing for these risks long ahead of time! Here's what to focus on:
Risk of being hacked: check and double-check your security measures and update them regularly. Stop hackers before they get in.
Consumer vulnerability: prioritize privacy compliance to keep their private data from being shared with unauthorized users. And outside of the computer, ensure that the products and services you offer also protect user data. No one wants to have their smart coffee machine hacked!
Increased DSAR requests: first of all, prioritize DSARs enough to have a system that can handle them quickly, if not fully automatically. But secondly, try not to give customers a reason to submit one. Prioritize transparency and use your privacy approach as an advantage to gain customer trust. People who are satisfied with your privacy compliance are more likely to trust you with their data, and thus less likely to submit DSARs.
Stay Safe!
Both you and your customers deserve a safe, happy, hacker-free holiday season. And to make that happen, privacy compliance and common-sense measures demand your time and effort.
Ready to improve your privacy strategy? Get in touch with us today to learn more about 4Comply, our state-of-the-art privacy compliance software.