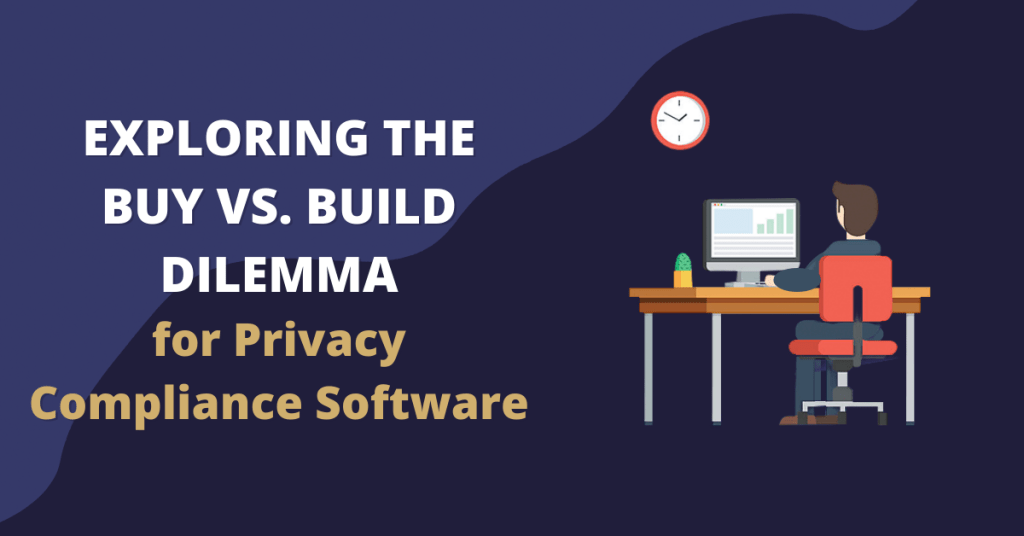 When it's time to install or upgrade privacy compliance software, most companies default to shopping for a pre-built program. This ensures that everything's ready to go right out of the box. Some opt to have their IT department build a solution from the ground up to ensure the result can do everything it needs to, in the exact way it needs to. Both strategies have their pros and cons. But the buy vs. build debate creates a false dilemma. Why not consider a third option and buy AND build your new privacy solution?
Anyone familiar with data privacy regulations knows these regulations will change. Not all of these changes are significant, but some effect the way your company handles customer data, and many of them will require some sort of change to your privacy compliance software. You'll need a flexible, easy-to-update system to stay on top of constantly shifting legal requirements. Fortunately, there's a very simple solution: make sure your system is easy to configure.
Any privacy compliance software worth your while will need to do several things:
Keep up with changing privacy laws and update accordingly
Respect the level of consent or permission your customers gave you to retain their data
Respect your customers' requests to view, edit, restrict, or delete their data
What Does Compliance Look Like?
In previous years, very few privacy regulations existed to restrict how companies can use the data they had collected. However, more recent legal developments emphasize the customers' control over their own data. Consumers have more control over what data can be collected, how companies can use it, and how long they can retain it. They can also ask to see how their data is being used or even to have it purged entirely, effectively removing themselves as a potential customer. And these laws are very serious. Even accidental violations or mishandling of data can result in significant fines. With this in mind, it's easy to understand why companies need to understand proper privacy compliance down to the last detail.
Let's start with a common misconception: compliance is NOT simply applying a specific set of programmatic decisions to your collection of customer data. Some privacy laws offer significant flexibility to the company itself to choose how to implement its new privacy requirements. Some can err on the side of caution and adhere to the most restrictive interpretation of privacy regulations to make absolutely sure they're safe. Others may choose to comply with the mandatory sections while adjusting others to match their corporate policies. Your corporate policy certainly won't overrule the law, of course, but it can and should influence how you choose to observe it in your usage of data.
That sounds pretty straightforward, and it is. The challenges come when your company serves customers in different regions, states, provinces, or countries, each with their own constantly-evolving privacy laws. Keeping track of every detail of these laws is a full-time job in itself. That's why a flexible privacy compliance framework is so critical. Not only will your customers be confident their data is handled properly, but you'll also be free from worrying about accruing fees from breaking a law.
Keeping Up with Changing Laws
Make no mistake: laws and regulations can and will change. Don't assume you're in the clear just because you completed your GDPR or CASL implementation 18 months ago—the same rules may no longer apply today. And adopting your own privacy strategy only ensures that you have to keep this custom-designed policy in line with privacy laws from around the world.
Your compliance strategy requires flexibility to evolve with changing rules. But a pre-built software system may not have that capability, and trying to program your own can quickly become overwhelming with all the functions required. What's the solution?
Depending on the size and complexity of your business technology, a single platform may be available with existing integrations that connect your systems. A program like this boasts the best of both pre-built and self-developed software. It's fully operational out of the box and simply needs to be plugged in to whatever system you're already using. But at the same time, offers a flexible framework that you can adjust how laws are interpreted to implement any necessary changes. At 4Thought Marketing, we're built a flexible privacy compliance framework: 4Comply.
What Does 4Comply Do?
4Comply is our privacy compliance software-as-a-service solution that integrates smoothly with your existing systems and processes. You can use it to easily handle consent and permission distribution, rights management, data subject requests, and far more. 4Comply also centralizes all this information in a single location for quick reference, so you and your legal team can respond quickly to any potential problem.
Leverage our developer API to update your existing forms.. You can simply bolt 4Comply onto your existing systems and you're good to go!
4Comply also comes equipped with pre-built or customizable data request forms, allowing you to create forms appropriate to different privacy laws. You can also build your own forms if you prefer or even integrate Eloqua's privacy software into your company's "Contact Us" page! The straightforward programming approach will save you a lot of hassle.
Conclusion
Even unintentionally violating data privacy laws can cost your company potentially millions of dollars in fines and legal fees. Worse, you'll lose customers as public trust in you declines. Don't let that happen! Switch to an easy-to-use privacy compliance software system that you can rely on. Get in touch with us today to learn more.
---